CHIPS Journal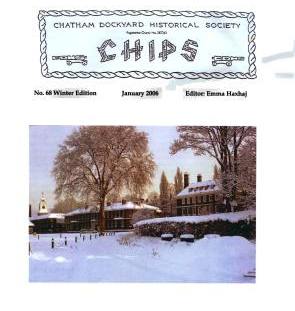 PURCHASE OF BADGES FOR DISPLAY IN THE MUSEUM
By Norman Gifford and Henry Steer [an extract from CHIPS Journal, Summer 2006]
Many visitors to the Museum are interested in badges of Chatham manned or built ships, but there are some who ask for badges other than these because they have been involved in famous incidents. This prompted the purchase by the Society of badges of two famous ships: HMS Cossack and HMS Kelly. HMS Kelly was featured in the last issue of CHIPS, this time it is the turn of HMS Cossack.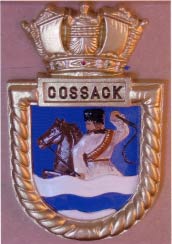 HMS Cossack
A Tribal class destroyer, 1959 tons displacement, eight 4.7 inch guns and four torpedo tubes. Complement - 219 officers and ratings.
She was built at the High Walker yard of Vickers Armstrongs at Newcastle-upon-Tyne, completing on 14 June 1938.
In February 1940 whilst under the command of Captain Phillip Vian she intercepted the German tanker Altmark. The Altmark sought refuge in the Jassing Fjord, which was an infringement of neutral Norwegian waters. Captain Vian sought instructions from the Admiralty as to whether or not Cossack could enter the fjord as this would also be an infringement. Permission to do so was given by the First Sea Lord, Winston Churchill.
Cossack followed Altmark into the fjord causing her to go aground. Crew from the Cossack then boarded her. Learning that there British prisoners in the hold they shouted "Well come up, the Navy is here". They saved 299 British merchant seamen all of whom had been captured by the German pocket battleship Admiral Graf Spee and transferred to the Altmark.
In May 1941 several destroyers including Cossack were escorting a convoy to the Middle East when they were ordered to break off and proceed to an area where the Bismark was reported to be. They found her and subsequently several torpedo attacks were made during the night but without success. The next morning reinforcements arrived from the Home Fleet, engaged the Bismark and sank her.
Cossack was part of a group escorting a convoy from Gibraltar to the United Kingdom when on 21 October 1941 she was hit by a single torpedo fired by the submarine U-563. She was taken tow by a tug from Gibraltar. Unfortunately, the weather worsened and on 26 October the tow was slipped. Cossack sank in the Atlantic west of Gibraltar on 27 October 1941. Tragically 159 of her crew were lost.
Harold Bennett has uncovered an interesting fact. Although Cossack appears in the Nore Memorial at St Georges Church, Pembroke, she was a Portsmouth ship, never entered Chatham as far as we can tell and just one of the sailors lost on her came from Chatham.
(C) 2006 CDHS